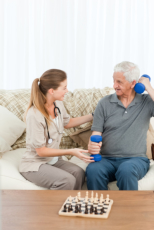 Americans Choice HealthCare Services has personnel who have their very own family members. They understand how challenging it is to cope with the emotional and social demands of sickness or old age at home.
In an attempt to ease the trials you are confronting, we have a team of social workers to help you out. Our Clinical Social Workers will be there to assess, diagnose and perform therapies for emotional, behavioral and mental disorders. Meanwhile, Medical Social Workers can provide counseling for events such as death and foster care. They can also recommend you to certain resources or establishments that can help ease your financial burdens, feed your social needs and loosen your emotional tensions.
For more information about our social work services, kindly contact us at 513-791-3810 or send us an online message through our contact us form. You may also use the same form for setting up an appointment with us.