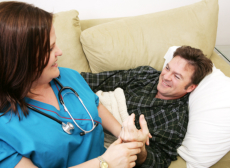 Americans Choice HealthCare Services hhas an insatiable quest for philanthropic services to mankind. More than just feeding on what you pay us for the home health care you demand, we pay even more attention to the quality of what we give.
Health is wealth we can never replace once gone, and it goes with age because the latter always has a deteriorating effect as it increases. To combat sickness and the inevitable consequences of old age, we offer the following:
Americans Choice HealthCare Services also offers companionship services. This involves Home Health Aides or caregivers providing assistance to the disabled, ailing and senior at home in maintaining their houses and watching over their basic needs such as nutrition. Companionship also involves fulfilling the social and emotional needs of clients. As companions, caregivers can initiate conversations and even write letters for you if you must.
If you need more information about our services, you can directly contact us at 513-791-3810 or set an appointment to meet any of our expert personnel.