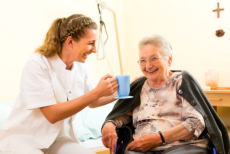 Americans Choice HealthCare Services outlines here the eligibility requirements to make it easier for you to determine if home health care really is for you. Home health care is an open service for everyone, without regard for points of possible discrimination such as age, gender, race, place of origin, or the type of services to be availed.
Nevertheless you need to be:
Homebound. This means that your physician has already established your difficulty in leaving home due to an existing medical condition or disability.
There should be an approval coming directly from your physician with whom you have been getting services under a certain plan of care on a regular basis.
Included in the certification provided by your doctor should be that you are in need of intermittent skilled care, physical therapy, speech therapy or occupational therapy services.
The home health care agency you should be working with must be affiliated to the current insurance you are holding. We accept Medicare holders, but if you are not quite sure about the eligibility of your insurance, you can give us a call at 513-791-3810. You can also set up an appointment for a meet up.