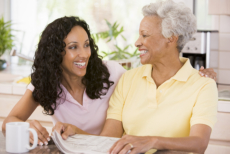 Home Health Aides are responsible for assisting you in taking care of your daily living needs. They may perform a wide variety of household duties and care measures, including the following:
Dressing Changes
Obtaining Household Supplies
Running Errands
Accompanying to Doctor's Offices and other Outside Home Trips
Oral Medication Administration
Care for Disabled Children or Sick or Disabled Parents
Massage
Rest assured that Americans Choice HealthCare Services will have all of your needs properly assessed so that a proper care plan can be invented. Trust our Home Health Aides for all your daily assistance needs. Contact us at 513-791-3810 for more information.